I love cinnamonny things, especially on a winter evening, but you can't have mulled cider everytime you want a warm spicy treat. This spiced madeira cake is a lovely, caramelly treat that's great fresh from the oven, or taken from the freezer and toasted.
The muscavado sugar gives a lovely molasses-y flavour, and I added the nutmeg, cinnamon and ginger in my usual quantities of 1:2:3. If you had ground cloves, they might go well in the cake too. I only keep cloves for mulling though, so my cake gets a pass on that flavour.
I don't care for fruit cake, but you could add any sort of dried fruits that you think might go. Madeira cake is pretty forgiving, so you can add as much as you feel like (or none :) ).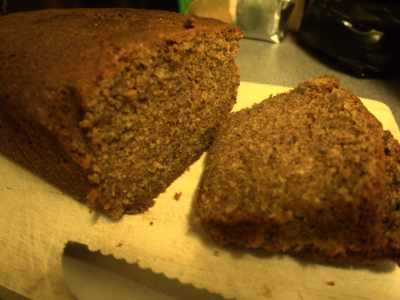 225g butter (softened)
110g muscavado sugar
110g caster sugar
3 extra large eggs (about 200g of egg, 4 medium will probably work just as well)
1 tsp ground nutmeg
2 tsp ground cinnamon
3 tsp ground ginger
225g self raising flour
Preheat the oven to 170°C. Line a loaf tin (2lb tin? it's 23cm long anyway). Cream the butter and sugars well (I used an electric whisk, that really doesnt like if you don't soften the butter). Add the eggs one by one, continue beating well. Add the spices and flour, mix just until the flour is combined. Pour into the tin and bake for 1 hour. Check it's cooked by stabbing it with a knife and seeing if the knife comes out clean.
When the cake is cool, it can be sliced and frozen (or eaten, I won't demand you pass up a slice of very fresh cake). The frozen cake slices can be toasted and, if you're feeling especially bold, spread with butter or speculoos paste.