Instead of trifle and romantica, for Christmas dessert this year my mother requested I made my lemon drizzle cake and she'd make a Bailey's cheesecake. When the drizzle cake was made, I offered to make the cheesecake while I was at it, as I love making cheesecake and don't make it as much since I moved to Dublin (my beloved doesn't care for it, and the fridge in work is just manky so you can't offload it there). I probably based the recipe off a few other cheesecakes I made years back. Before I left for Dublin, I left the recipe with my mother who gets to make it a lot more often than I do, so I just used that piece of paper instead of my memory.
It's gelatine free, the chocolate ganache isn't runny so it stays reasonably stiff. If you like, you can leave out the Baileys. Use the best chocolate you can find, there's so few ingredients that you want to use the finest you can.
The biscuits are counted out as filling the 18cm loose bottomed tin at a depth of approximately 2 biscuits, I'm not sure how much they weigh, someday I'll check. Crush them in a strong plastic bag, ziplock top bags are usually sturdy enough or double bag a thin sandwich bag. You can bash the biscuits with a rolling pin or you can just mash them with your fingers. Chocolate digestives work well with it too, they're smaller, so you'll need more than eleven :) For a larger tin, scale up the biscuits and butter, scaling the cheesecake depends on whether you like a huge layer of cheesecake on the base or not.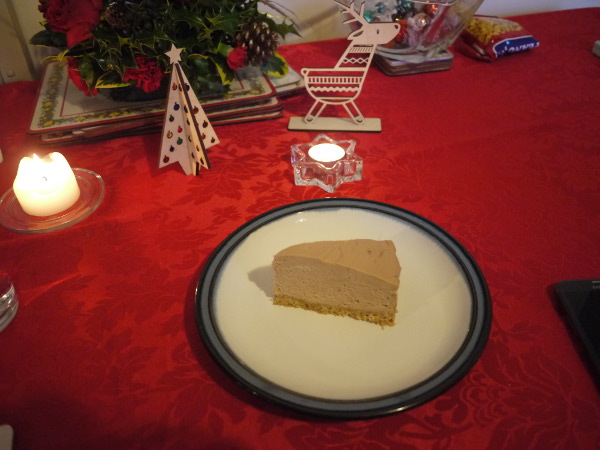 11 mcvities digestive biscuits all crushed up (for other brands see my above advice on measuring out)
75g butter melted
200 + 50 mL cream
200 g best quality milk chocolate (we usually use the Lindt extra creamy, all of two bars go into the cake, so you'll need a third to munch on)
360g full fat cream cheese (2 philadelphia tubs)
75 g baileys (about two Irish measures (37.5mL) or three UK measures (25 mL ) )
Melt the chocolate with 50 mL of the cream. Stir well and set the ganache aside to cool.
Crush the biscuits well. Stir into the melted butter and press into the bottom a loose bottom or springform tin (my mother's tin is about 18cm in diameter, you can use slightly larger too). Pop into the fridge until you're ready for it.
When the chocolate ganache is cool, beat it into the cream cheese, then beat in the baileys. Whip the remaining cream. Fold the cream into the chocolate mix, then pour on to the biscuit base. Put in the fridge for at least 2 hours if not over night.
To get the cake out of a loose bottom tin, put it on top of a can (beans, chopped tomatoes, it doesnt matter), and press down evenly on the sides. There'll be minimal cheesecake left stuck to the sides. For springform, loosen the spring slightly, if you need to free the cake a little, run a knife around the edge. Then open the spring fully and lift it off carefully. Then enjoy any cheesecake that was stuck to the sides!