Mulled cider is a great drink on a winter evening. Heavy on the cinnamon, warm to clutch in your frozen hands. What's not to like? (Cider itself according to himself). So I make mulled cider for one by adding some pre-spiced syrup to a single can or bottle of cider.
It's a fairly flexible recipe, so if you want it sweeter to go with a dry cider, add more sugar. Love cloves more than I do? Fire a few more in the pot. Can't find ginger root? Substitute it for crystalised ginger and remove some sugar (I think I dropped it by 50g that time). I add the juice toward the end, as I don't think it benefits from boiling. You can just quarter the oranges and throw them in at the start, but it doesnt really get as much juice out and you end up with some bitterness. If you're hosting a party, skip making the syrup and add everything bar the water to the cider and heat that for a half hour instead.
I usually end up with about 600mL liquid in the end (after reducing to half and then adding in the juice), which does about 2.5 - 3L cider. As when mulling wine, if you use a terrible cider, it will be drinkable, but if you use a good cider it'll be outstanding. If you're planning to use it to mull apple juice (or low alcohol ciders), reduce the sugar by at least half, they're very sweet to begin with, and adding loads of syrup will make it undrinkable.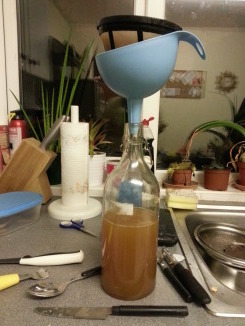 1 litre water
200g caster sugar (you can go up or down depending on the type of cider you normally get)
6 cinnamon sticks
1 tsp nutmeg (ground or grated, up to you)
12 cloves (precise, you can up it if you love cloves)
4 inches of ginger root, sliced (or a bag of crystallised ginger, but reduce the sugar)
Zest of 2 oranges (life's too short for microplaning for this recipe, a regular zester will do)
Juice of 2 oranges
Put everything except the juice in a pot. Heat until it's steaming gently but not boiling. Stir occasionally till the sugar is disolved. Continue to heat for about an hour and the liquid has reduced to half or a third of the starting volume. Add the juice of the oranges. Strain into a bottle. Let to cool, then store in the fridge.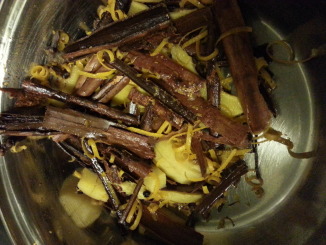 When you want a hot cider, pour a bottle or can into a pot, add about 100mL of the syrup (or more or less to taste, 500mL + 100mL is about right spicewise to start with, drop to 60mL for longnecks). Heat gently and pour into a giant mug (or two regular mugs if you can share). I usually swirl the bottle of syrup before pouring as the ground nutmeg settles otherwise (it fits through the strainer, so it'll always be there).