Thanks to Lidl and Clare, I now own a waffle iron. I'm still trying to figure out the optimum breakfast waffle, and have yet to try mad things like waffling brownies, but I did make a potato-corn-based-waffle for going with delicious chilli. It's not like a Potato Waffle, but as they're already perfect and available frozen by the kg, I don't need to figure those out.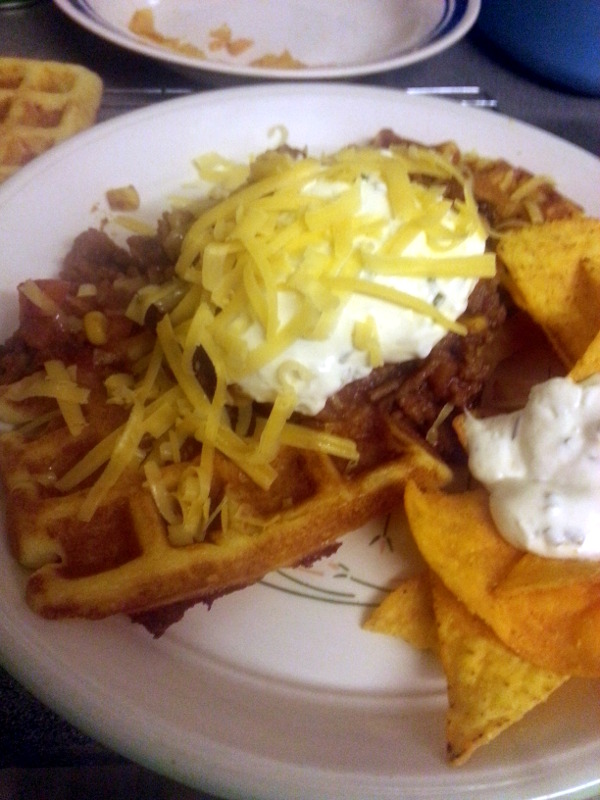 This recipe makes about 6 Belgian waffles-worth. Enough for three big plates of chilli, or two chillis and some breakfast.
250g cold (leftover) mashed potato
30g flour
20g polenta
2 tsp baking powder
1 egg
100mL milk
butter for oiling the waffle iron
Mash up the potato with the flour, polenta, and baking powder. Beat the egg and milk together in a jug. Pour into the spud/flour mix, beating all the time with a fork. The mix doesnt need to be smooth, just well combined. Turn on the waffle iron, and brush the plates with butter.
The batter puffs up, thanks to all the baking powder, so take care not to overload the iron. Turn halfway through cooking if needed.
Serve with chilli and lashings of cheese and sour cream. Any leftover waffles can be cooled on a wire rack and toasted for breakfast (or frozen for the next time you have chilli).