Slow cookers are great for ignoring; put things in, turn on, ignore, eat. You can ignore them completely if you get one with a timer, or get a timer plug. The things made in slow cookers aren't delicate, but they can end up juicy and tender.  They usually travel well to potlucks, where you can wow people by telling them "oh yes, this took 8 hours to make" (although it took only 10mins of hands on work).
Shredded chicken takes 8 hours on low. During this time, all the connective tissue between the muscle fibres breaks down and melts away. You're left with juicy shreds of muscle for very little work. The seasoning can be changed to suit. To minimise the work in this, I pick up a packet of taco seasoning. The full packet can be a little salty in the small volume, but you can add less or make your own.
The shredded chicken is great with bowls of rice and some grated cheese, but you can also just serve it up as a tasty dip for crunchy tortilla chips. If making a mess is your thing, then load it into burritos. It freezes well, and seems to keep its flavour for a long time. I've eaten this from the forgotten depths of the back of the freezer months later, and it's been grand (though you're best off eating it w/i a month before freezer burn or general degradation kicks in).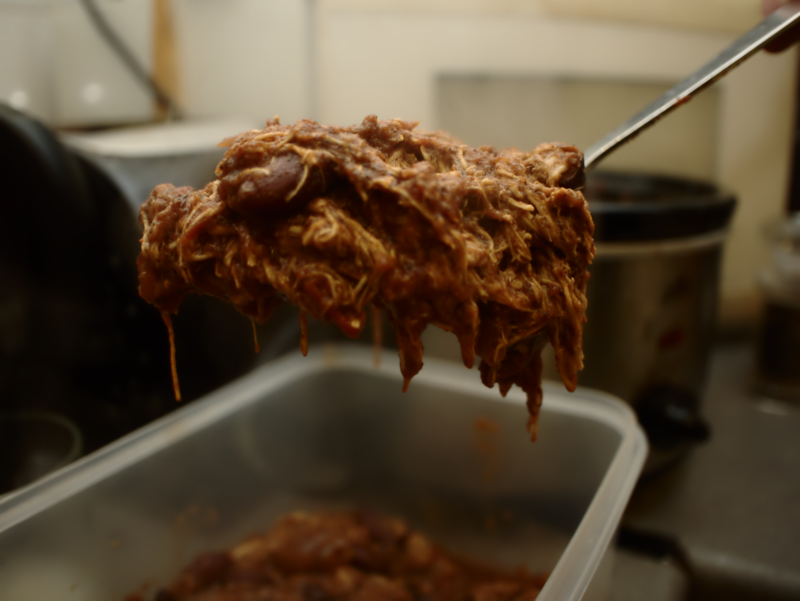 I have a small 3.5L slowcooker, if you have a regular sized 6L one, double the quantities. Get a timer plug if you don't have a fancy slowcooker with a built-in timer. I use a timer plug and set it running before I go to bed usually as it reheats pretty well and I'm in no mood to set it up in the morning.
2 large chicken breasts
1 (400g) can chopped tomatoes
1 drained and rinsed can of kidney beans
1 packet of taco spice seasoning (use half if you find it too salty, otherwise, if you have your own blend for spicing tacos or chilli, use that instead)
1 medium onion, thinly sliced (optional)
2 handfuls of sweetcorn (optional)
Boiled rice, tortilla chips, grated cheese to serve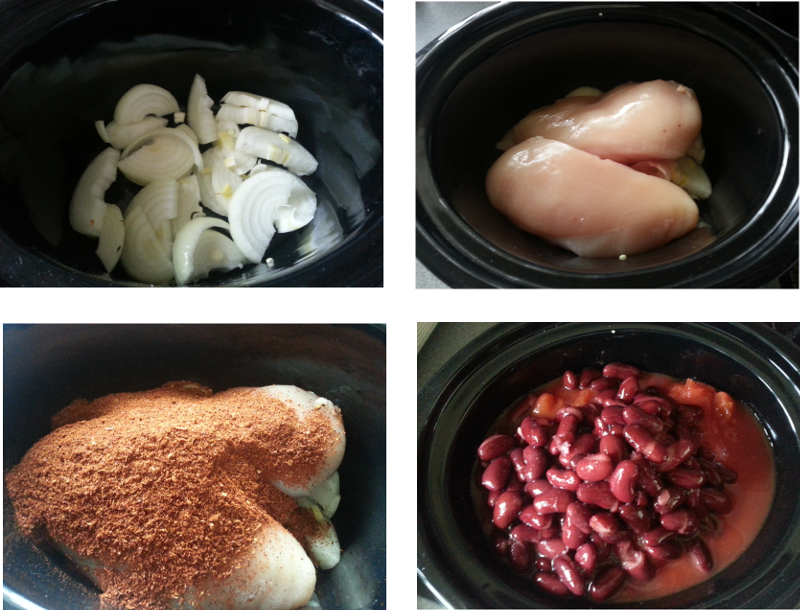 If using the onion, I tend to put it at the bottom of the dish under the chicken breasts. Then put in the chicken breasts. Cover with chopped tomatoes, mix the spice blend into the tomatoes. Dump the beans and corn in on top. No need to stir, once the chicken is below the height of the liquid, you're golden. Turn the slow cooker to low for eight hours. Don't open the lid while it's cooking, just ignore it, get on with your life.
When the cooking time is up (or you get out of bed), shred the chicken using two spoons (it'll fall apart and still be juicy, it's amazing). Serve hot over boiled rice, with a fistful of grated cheese on top. The photographed chicken never saw rice, it just went to a house party with refried beans and lots of crispy tortilla chips.
It freezes very well, just divide into portions in freezer bags or lunchboxes. Reheat in the microwave. It's also tasty cold, I have been known to just scoop up the cold chicken with tortilla crisps while I waiting for the rice to boil.